About Us
Rab MacInnes and Linda Cannon are two individual artists who met in 1997 to design and make some of the stained glass for Mackintosh's "House for an Art Lover", in Bellahouston Park in Glasgow. Rab was commissioned by Glasgow School of Art to translate Mackintosh's tiny sketch cartoons, from the original "Koch" portfolio of architectural drawings from 1901, from drawings into stained glass designs. Linda provided the technical experience to cut and lead the designs into stained glass.
Since then we have collaborated on numerous projects and have come to realise that two stained glass artists, with a wide range of experience and practical skills, can make projects easier to organise and complete than by working individually. In this case two minds and two pairs of hands are better than one.
Our skills compliment each other very well: We are both ICON (Institute of Conservation) accredited conservators with years of experience in restoring and conserving historic windows. We are both fine artists, traditionally trained in painting, drawing, design and colour work. We both graduated from Glasgow School of Art in Fine Art and Design, and we both have a passion for technical and aesthetic excellence. We have no particular "House Style", but prefer to tackle each project with fresh ideas and vision.
Our experience in working together allows us to "swap roles" very easily, with Linda managing some projects, Rab managing others, and both of us providing whatever practical assistance is required to complete jobs on time and within budget.
As well as our own skills, we can, when required, draw on the resources of other professional glazing, scaffolding, joinery and masonry teams to provide a complete package of resources, for whatever scale or complexity of work. In January 2004 we undertook a two year teaching program of Post Graduate study for an Historic Scotland Fellowship. Joy Bunclark joined us and worked successfully on a wide range of conservation and design projects. We are delighted that on completing the Fellowship Joy secured a full-time job in Canterbury Cathedral Stained Glass Workshop and that in February 2011 she became an Accredited Conservator with ICON - CONGRATULATIONS.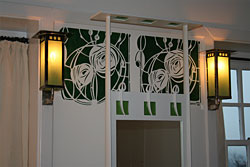 Recent work includes: the refurbishment of The Royal Apartments at Stirling Castle - this involved a trip to North East France to research original stained glass connected to Mary of Guise; the restoration of St Magnus Episcopal Church in Lerwick, Shetland; the restoration of two Ballantine windows in The Wallace Monument depicting Sir William Wallace and King Robert the Bruce; the installation of a Burne Jones window in Moscow; three museum panels for the new Riverside Museum in Glasgow; two new nine-foot high gold pink angels for Kilmacolm Old Kirk; a new landscape window for a private client in Glasgow; a large zodiac dome in the ceiling of Edinburgh Council Chambers; another set of leaded domes in Dumfries Town Hall (working for Maurice Jackson); and a complete new set of leaded quarry windows for Lamb's House in Leith.